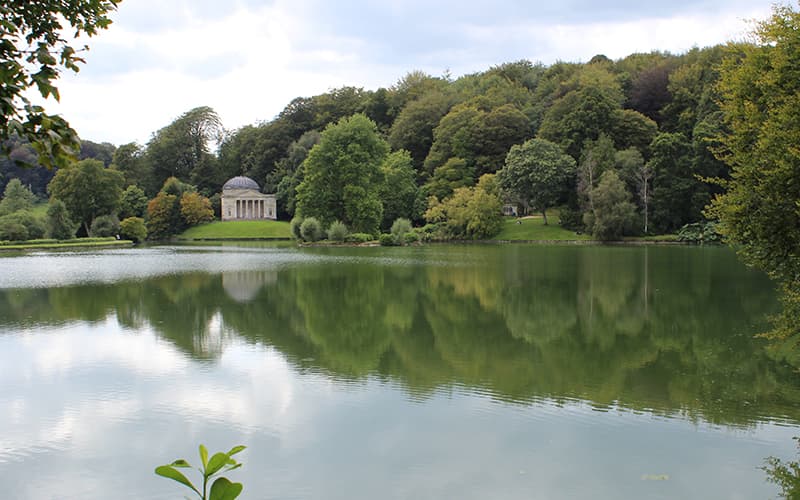 Wiltshire is an ideal place to visit for keen walkers and hikers, as there are so many opportunities for beautiful walks in Wiltshire. Nearly half of the county lies within designated Areas of Outstanding Natural Beauty and there are around 8200 walking paths in Wiltshire.
Whether you are looking for a gentle stroll, something more challenging or even dog walks in Wiltshire, there are trails and walks in Wiltshire to suit everyone.
So take time out to explore the beautiful Wiltshire countryside with one of our favourite Wiltshire walks. Of course, please do check the details of your walk and make sure you have suitable clothing and footwear before you set off.
The Stonehenge Landscape
If you're planning to visit Stonehenge, you'll find plenty of opportunities for walking in the surrounding landscape. The National Trust owns much of the land that surrounds the famous stones, and visitors to the Stonehenge visitor centre can take a 2 mile walk across the landscape to Stonehenge itself.
You can walk to the Stonehenge Cursus, the Avenue and if you're looking for a longer walk, you could also head over to Woodhenge, a Neolithic timber monument around 5 miles from Stonehenge.
Details of Stonehenge Landscape walks can be downloaded from the National Trust website.
Westbury White Horse
The Westbury White Horse is carved into the landscape of Bratton Down, and offers spectacular views of the west Wiltshire countryside. Heading over to Bratton Hill will allow you to see both the White Horse and the Iron Age hill fort at Bratton Camp. You may also be able to see Cherhill and Alton Barnes Horses in the distance if the conditions are favourable.
If you're thinking of embarking on your own White Horse walks, Wiltshire's Imber Range Perimeter Walk is a 30 mile long distance walking trail that takes in mixed terrains. However, do bear in mind that this walk is quite challenging in certain sections.
Lacock Village
If you're also interested in local history, you're sure to enjoy a stroll around the National Trust property at Lacock Village, Wiltshire's time capsule village. Lacock walks take you through winding streets and past beautifully preserved 13th century houses, a medieval tithe barn and Lacock Abbey. This is the local country house which was built on the site of a medieval nunnery and became home to William Fox Talbot, the pioneering photographer.
Lacock walks are suitable for most people and can be planned to fit the time available to you. You may also like to visit the museum at Lacock which commemorates William Fox Talbot's work.
The Avon Valley Path
The Avon Valley Path is a long distance walking route which stretches 34 miles from the beautiful cathedral city of Salisbury, through Hampshire to Christchurch Priory on the Dorset coast. It is named for the River Avon and follows this river's course, which can lead to the path becoming waterlogged in winter months.
This walking route has been divided into five sections. The first section offers walks around Salisbury and over to the village of Downton, through six miles of chalk downlands and water meadows.
Stourhead Gardens
Visitors to Stourhead House and Gardens can enjoy walks around the lake and through landscaped gardens dotted with temples and grottoes. The seasonally changing trees and flowers add colour to this easy walk.
If you are looking for a more challenging walk, there are a number of walking routes around the Stourhead landscape. These take in local landmarks such as King Alfred's Tower and the Park Hill Camp Iron Age hill fort.
Shearwater Lake
Longleat Safari Park is a fantastic day out for visitors to Wiltshire, but the Longleat estate is also one of the most popular places to walk in Wiltshire. There is a 2.5 mile path around Shearwater Lake together with miles of walking trails in the surrounding woodlands, so you can plan a long or short walk to suit your preferences. You can also head over to nearby Heaven's Gate for spectacular views over the Longleat Estate.
Plenty of car parking is available by the lakeside and you won't be short of options for refreshments as there are picnic spots, a lakeside cafe and nearby pubs.
The Kennet and Avon Canal
The Kennet and Avon Canal is an 87 mile waterway that runs from Bristol, through Wiltshire and over to Reading on the River Thames. It's ideal for either long distance or shorter walks in Wiltshire, passing by pretty towns and villages.
Depending on your chosen route, you could see local landmarks including the Crofton Pumping Station, the locks at Caen Hill or Wilton Windmill, the county's only working windmill. Canalside tearooms and pubs offer opportunities for refreshment stops along the way.
The Wessex Ridgeway
The Wessex Ridgeway is a 136 mile walking path that stretches from Marlborough in Wiltshire down to Lyme Regis on the Dorset coast. It is part of the Greater Ridgeway which also includes the Ridgeway National Trail towards Oxfordshire and Buckinghamshire plus two footpaths that extend towards Norfolk.
The section of the Ridgeway in Wiltshire passes close to Avebury Stone circle and the hillfort at Barbury Castle, offering spectacular views out over North Wessex Downs AONB (Area of Outstanding Natural Beauty).
Malmesbury
Malmesbury is a market town on the banks of the River Avon, which provides the pathway for a 2.5 mile circular walk. The walk starts in the centre of this charming Wiltshire town and takes in the picturesque Cotswold landscape that surrounds it. Along your walk, you will pass by landmarks such as the Old Courthouse and Abbey Gardens.
You can pick up a guide to Malmesbury river walks from the Malmesbury Tourist Information Centre.
Roundway Down
Roundway Down is an Iron Age hill fort close to the Wiltshire town of Devizes, and was also an English Civil War battlefield. The steep hill has sweeping views out across the North Wessex Downs Area of Outstanding Natural Beauty including the Devizes White Horse.
Your walk will begin from the Roundway Hill car park next to Oliver's Castle which is a fairly high point, so you won't need to put in too much climbing effort in order to enjoy the fantastic views. If you're looking for a longer walk, you could carry on along the Wessex Ridgeway towards Morgan's Hill.
Our selection includes just a few of the best Wiltshire walks. Did we pick one of your favourite walks in Wiltshire?