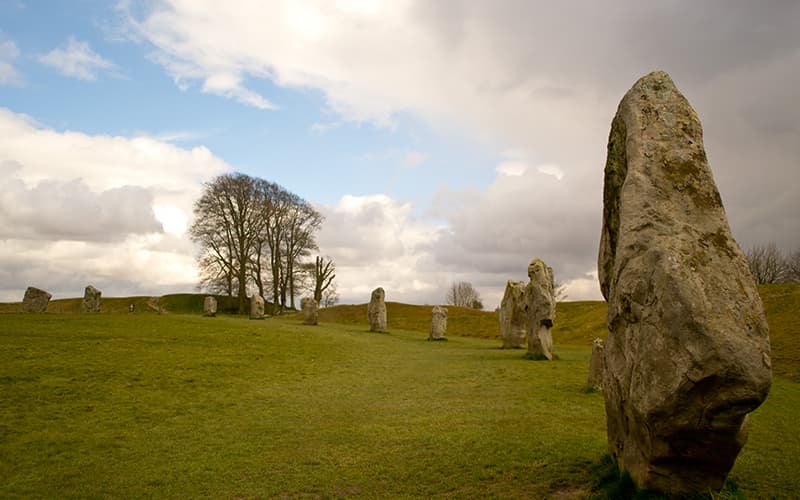 The county of Wiltshire is filled with bustling market towns and historic monuments. It has stunning stately homes, awe-inspiring cathedrals and exciting visitor attractions.
But Wiltshire's rolling countryside is also dotted with picturesque villages. Some of them are home to just a few hundred villagers, others are larger but still just as beautiful with chocolate box cottages, village shops and of course a village pub.
With charming locations like Castle Combe, Avebury and Lacock, Wiltshire has many beautiful villages to explore. So we've picked out a few of our favourite Wiltshire villages that we think you might like to visit.
Castle Combe
There's a very good chance that you'll recognise the streets of Castle Combe. Wiltshire's picturesque village is a popular filming location and has provided a backdrop for TV and films from Dr Doolittle to War Horse.
Castle Combe has often been called 'The prettiest village in England', and lies within the Cotswolds Area of Natural Beauty. The village is full of old mills and pretty cottages made from the local honey-coloured stone, and you'll love wandering through the winding roads that look like something from a fairy tale.
And keep your eyes open for cottages selling home-baked goodies from outside their front doors!
Lacock
Visiting the Lacock Village National Trust property is like travelling 200 years back in time. The National Trust has carefully preserved this Wiltshire village, and its practically unspoiled streets are filled with traditional stone cottages, a medieval tithe barn, a village church and more historic buildings.
As well as exploring the village, don't forget to visit Lacock Abbey, the local country house which was built on the foundations of a medieval nunnery.
Sherston
Sherston has the broad High Street and honey-toned cottages that you would associate with a quintessential Witlshire Cotswolds village. Visiting this Wiltshire village in the summer months means that you may be able to experience the village's annual boules competition and the Sherston summer carnival.
Sherston village is also near to the National Arboretum at Westonbirt, which is perfect for a relaxing stroll amongst the trees.
Tisbury
Tisbury is the largest village to be found in the Nadder Valley. There has been a settlement at Tisbury for over 2000 years, and the village now has a fascinating blend of architectural styles from quaint stone cottages to red brick Victorian buildings.
The bustling high street is filled with independent shops and places to eat, and Tisbuy is close to Old Wardour Castle, which is great for a family day out in Wiltshire. The village's location within the West Wiltshire Downs AONB (Area of Outstanding Natural Beauty) also makes it ideal for walking and cycling.
Avebury
There aren't many villages that have their own stone circle but you'll find one in Avebury. This Wiltshire village grew up around the site of the prehistoric stone circle, which is the largest in the world. As Avebury is only a short drive from Stonehenge, you can cover both sites in one trip and unlike Stonehenge, you can walk right up to the stones at Avebury and even touch them.
As well as the Avebury stone circle, the pretty village of Avebury has the usual mix of cottages and local shops. You may also like to visit Avebury Manor, which has each room decorated in the style of a different historical period and an elegant tea room where you can enjoy light refreshments.
Stourton
Stourton lies towards the west of Wiltshire, close to the border with Somerset. Many of the buildings in this small village are owned by the National Trust, who also own Stourhead House and Gardens. This beautiful stately home was described as 'a living work of art' when it first opened in the 1740s, and has landscaped gardens filled with temples, grottoes and exotic trees.
As well as Stourhead, Stourton is worth visiting for its pretty village church (St Peters), farm shop and riverside pub.
Wootton Rivers
Between Pewsey and Marlborough lies Wootton Rivers, one of the smallest Wiltshire villages which is home to fewer than 300 people. It's a pretty village with thatched cottages and around 25 buildings constructed before 1800. These include the Grade II* listed church of St Andrews and the Grade II* listed Manor House, parts of which date back to the 1400s.
Although many of the facilities in Wootton Rivers closed during the 20th century, the 16th century village pub is still welcoming visitors. You may also like to visit the Wootton Rivers Lock on the Kennet and Avon Canal, and the historic Savernake Forest is full of beech trees which make it a colourful spot to visit in Autumn.
Slaughterford
The unusually-named Slaughterford lies between the Wiltshire villages of Castle Combe and Box, in the Cotswolds Area of Outstanding Natural Beauty. Like many picturesque Cotswold villages, its winding lanes are filled with picture-perfect cottages built from the local honey coloured stone.
Many of the buildings in Slaughterford were built before 1800. These include the Grade II* listed church of St Nicholas of Myra, which was rebuilt in the 1800s after being partially destroyed in the English Civil War. You'll also find plenty of routes for walking and cycling around Slaughterford.
Iford
Iford sits in the Frome valley, close to Bradford on Avon and the Somerset border. The picturesque hamlet is best known for Iford Manor and its Peto-designed Italianate gardens. The gardens at Iford Manor are open to visitors between April and October, and their design draws inspiration from Italian, Byzantine, Ancient Roman and Oriental gardens.
If you visit Iford in the summer, you can also enjoy classical music, jazz and opera concerts during the annual Iford Arts Festival.
Stratford-sub-castle
The unusual name of this Wiltshire village is a hint that it sits near the site of Salisbury's old castle at Old Sarum. Stratford-sub-castle technically lies within the boundaries of the city of Salisbury, but with thatched cottages and a 13th century Grade I Listed church, it still looks and feels like a village.
There are also several walking routes which lead from the village, through the surrounding landscape and over to Old Sarum itself.
That's our pick of some of the best villages in Wiltshire – which one is your favourite?